The Problem
The SharePoint Community generally agrees that the platform suffers significantly from two issues.
Poor Adoption: Only 22% actively use SharePoint (IDC Poll)

High Support Costs: Support cost per user = $46/mo. (Osterman Research)
JFD was having this problem too...
With over 55 SharePoint Portals and Intranets to support, conventional training wasn't working for us either. We needed to understand the root cause and find a solution.
and 90% is forgotten
in just 30 days
The Cause
Over 46% of employees say poor training is the reason for low adoption. - (Osterman Research)
We researched the root problems with typical training and found that it boiled down to:
Cost: High costs cause the "train the trainer" model where few employees are directly trained.

Scope: Typical "End User" SharePoint training is overwhelming, it's like trying to learn French in 2 days

Low Retention: As much as 90% is forgotten in just 30 days!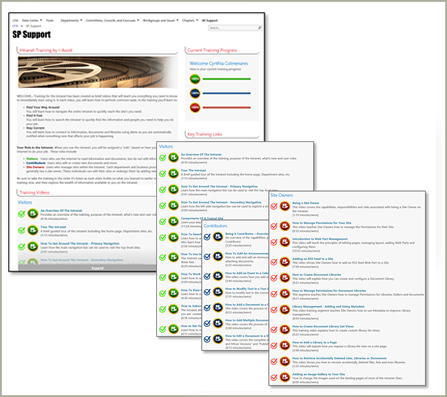 Equipping SharePoint to
Support Itself!
The Solution
iAssist: A dedicated training Site inside the Site Collection, providing an Automated Training and Support Solution for SharePoint, featuring "bite sized" video training segments in an expandable media library.
Professionally scripted, directed and produced.
Watched in sequence it's a training curriculum.

Watched when searched for it's a help desk.
IAssist also includes: User Analytics, a Support Discussion Board, Training Evaluations.
And surprisingly it's 80% less than instructor led training, so you can afford to train EVERYONE!
So what were the results?
The Results
Intranet User Adoption up 300%

Help Desk requests down by 85%

"How Do I" questions answered immediately

All Employees receive training

Training & Help Desk costs reduced.
JFD offers both Standard "Best Practices" versions and Custom Versions (recorded in your Intranet environment). Attend a webinar, ask for a demonstration or contact us to learn more.
Interested in seeing a demonstration? Just use the link below to schedule a conversation.
We think you'll find that the iAssist solution provides a phenomenal return on investment.